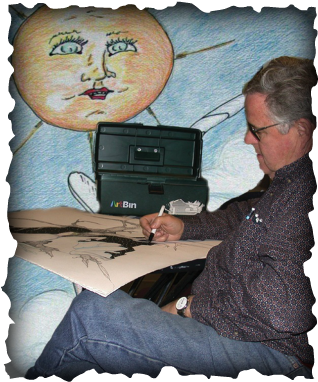 Alexander B. Drumm
born on February 16, 1943 in Westfield MA.
Educated Westfield public school system.
Student of dance Barbara (Drumm) Mayne Dance Studio 1951 to 1959
Ballroom Jr. Dance instructor 1957 to 1959
Graduated Westfield Vocational High school class of 1961.
Served in U.S. Army 1962 to 1965 as a Medium Helicopter mechanic
Graduated 11 June 1973 from
Holyoke Community College
Attended Springfield Technical Community College, Westfield State College, and Springfield Museum art courses.
Unlike most authors I never ever dream of being that. I was a guy who just love to draw. Then the day came when I the Lord decided the drawing series I had just finish would make a great Christian book. Surprise! Surprise! Had no idea or did I want to. Yet it would not leave me try to find anyone that might be able to help in any way. Just was not happen. God had made the point quite clear, this picture image person was to use the drawing and write the text. So this new Christian was destine to become an author.
Now it seemed that more series of drawings would be coming to and more text needed will? That right more image more book well at less four books. There was one called "No Room Here" about the spirit of Christmas. Did not know what to do with it when on a Sunday morning in church the young lady in charge the children Christmas program was right there. So I asked if and where did the program come from and did she have anything for the coming year.
She asked why and we discuss adapting "No Room Here". After paying about it and checking with the Pastor it was a go. With the ok it was decided it would be nice if we could print some books to raise money for youth ministry. Where would we get this done at a price that would work? So letters were sent out to local business asking help to finance. While waiting for answers the Pastor call me to ask if it would be all right to show books he had to a group of guys who had formed a new company called Abba Father Media Inc., who had sent him an e-mail asking if he knew of anyone looking to publish a children book. When they saw the books they just wanted to publish all four. Looking to print a few books for play end up with publisher.
Ask in His name and receive more than you ask for.
"You haven't done this before. Ask, using my name, and you will receive, and you will have abundant joy."
John 16:24
---